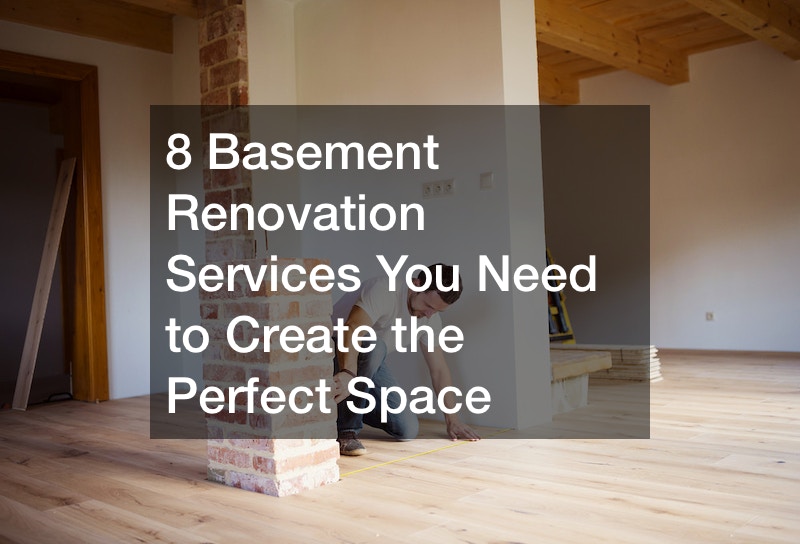 8 Basement Renovation Services You Need to Create the Perfect Space
Renovating your basement is a fantastic way to optimize your existing space without the need for a costly addition. Whether you envision a cozy living area, a home office, a fitness room, or a playroom, achieving your ideal basement requires a range of services. This guide outlines essential basement renovation services that will help you create a successful and functional basement space.
1. Construction Services
One of the best investments you can make is adding a concrete basement to your brand-new house or remodeling one that already exists. A family room, entertainment center, office, or extra bedroom can all be located in a basement for a reasonable price. The most common material used to build basements is concrete. It is also increasingly popular as a finished flooring choice for basements due to its moisture resistance and variety of design options.
Based on the basement's form, basement construction will incur several expenses. When a standard building is constructed, the earth is excavated for the foundation, but if a basement is present, further digging and ground improvement may be necessary. Also, because the basement is below the ground line (GL), precautions must be taken to prevent rainwater intrusion and groundwater flooding.
Even though you'll be upgrading your basement, keep in mind that you could still need to use it as a more practical location. Choose basement renovation services and design that will improve utility rather than limit it, whether you use it for a home office, laundry facilities, or storage space. Don't forget to take care of the drainage.
2. Basement Flooring Services
The majority of basements feature a sturdy, flat, and long-lasting floor made of poured concrete. If you're thinking about rebuilding your basement, you'll undoubtedly want to improve the flooring to make the new living area more inviting, more beautiful, and simpler to keep clean. Flooring is therefore another important basement renovation service.
The good thing is that you have a wide range of choices for basement flooring to take into account. Vinyl is the most common flooring material for basements. With the extra bonus of being waterproof, vinyl flooring can be found in the forms of vinyl plank and vinyl tile, giving it the capacity to look almost exactly like products made of stone and hardwood.
Vinyl flooring is strong and waterproof because it is constructed of PVC. Since vinyl, unlike wood, is constructed of inorganic components, its durability is an added plus, making it ideal for high-traffic areas. Installing vinyl planks directly on your subfloor will speed up and simplify the process of installation.
Carpet is another choice for a basement living room or bedroom quarters. Carpets are snug and fluffy making the room a little warmer. Installation is easy using carpet tape or polyurethane-based glue. To avoid damages from leaks, the carpet should not be installed near hot water heater or the laundry room. Carpet flooring can be put down over wood, concrete, and asphalt. Modern carpet types are waterproof enough to be used outside.
3. HVAC Installation
Finishing your basement can significantly increase the value of your house, but only if it's comfortable. To accomplish this, HVAC installation is essential. So, you shouldn't cut corners on HVAC when looking for basement renovation services. But before you hire HVAC services, there are several things to consider.
It's necessary to first take into account local codes and regulations for heating and cooling livable space. Second, consider how you will utilize this new area. Climate plays a major role in humidity and temperature control preserving valuable or collectible items. Furthermore, wouldn't you want the kids' playroom in the finished basement to be cool in the summer and warm in the winter? Ask yourself these queries before beginning any HVAC work.
Also, size matters. Notwithstanding the type of HVAC system, installing one that is too small or too big will lead to performance and repair concerns, inefficient operation, and decreased comfort. Plan a mechanical room that provides enough space for a technician to maneuver around the equipment in case there are any future issues. Also, the apertures must be big enough for you to install a new heating system and remove your old furnace. Find a reputable ac company for professional services.
4. Basement Amenities Services
The most modern basement renovation setup is turning the space into another house. Many homeowners are resorting to basement renovations to increase the market worth of their property while also creating lovely spaces with open concept design, perfect for adding bedrooms, kitchens, and bathrooms to create a dynamic and vibrant place. The level of your guest's comfort throughout their stay can be greatly improved by providing a quiet, private space for them. As a homeowner, you must search for and carefully select competent basement renovation services for better results.
There are several options if you want to remodel the bathroom in your basement. You can decide whether to use modern bathroom shower doors or keep with the customary shower curtains. The advantages of a glass enclosure over other conventional shower doors are numerous.
Initially, keeping things basic is the ideal option if you only have a tiny amount of space to work with. In contrast to a curtain that limits your field of vision, a glass enclosure offers a continuous line of sight. This gives the impression that the space is larger. A glass enclosure can also go from the top to the bottom of the shower, producing a watertight seal, unlike a curtain where water can spill out the bottom, top, and sides. Glass shower doors can also be made to fit niches, unusual ceiling shapes, and renovated attic or basement rooms. You can see some of the unexpected places we were able to work with in the gallery below.
5. Finishing Services
Your basement's floor finish is a major part of creating the perfect space. Skilled basement renovation services may have the know-how to create a polished and practical floor. A key component of finishing the floor is concrete work. It ensures a smooth surface and lays the foundation for the subsequent finishing procedures.
Basement renovation services can provide a range of floor finishing options after the concrete floor has been installed. These may involve installing flooring materials like hardwood, laminate, tile, or carpet, depending on your preferences and requirements. Proper priming and cleaning of the concrete surface are crucial for a smooth and durable final floor. Depending on the size and complexity of the job, basement concrete finishing costs can range from $3 to $10 per square foot for simple finishing and higher for more elaborate designs or higher-quality materials.
Among other floor finishing services, the concrete surface can be polished, stained, sealed, and leveled for a sleek appearance. The floors of your basement room can be finished to a high grade by concrete leveling firms, enhancing both its general appearance and usability. Concrete works in basements demand professionalism in handling and working with concrete, as well as sufficient preparation and curing processes, to ensure the longevity and functionality of the basement space.
6. Appliances and Installations Services
The addition of numerous appliance sales can improve the functionality, comfort, and convenience of your newly renovated basement. First off, a dehumidifier is a useful tool for controlling moisture levels and preventing the growth of mold or musty odors. Second, you can keep drinks and snacks refrigerated without having to walk to the main kitchen by adding a compact refrigerator or beverage cooler to an entertainment or bar area. Finally, having a washer and dryer in the basement can eliminate the need for you to travel to another area of your house to do your laundry. Look out for appliance sale offers in your local stores for the best deal.
A home theater system with a big-screen TV or projector, surround sound speakers, and cozy seating may also create an immersive movie-watching experience if you're designing a media or entertainment room. You can work out at home without having to leave. Equipment like a treadmill, elliptical machine, or weightlifting machines can be perfect for a home gym setup in the basement. Last but not least, an electric fireplace may add a nice atmosphere to your basement, making it a welcoming and relaxing spot for gatherings.
In short, depending on your particular needs and tastes, appliances like dehumidifiers, mini refrigerators, washers and dryers, home entertainment systems, workout equipment, and electric fireplaces can all be helpful additions to renovate your basement. While considering basement renovation services, keep safety and adherence to building requirements in mind, and get professional advice before undertaking any significant electrical or plumbing work.
7. Electrical Services
While transforming a basement into the ideal space, electrical services are essential for basement renovation. Electrical wiring is one of the main electrical services you could want. This entails evaluating the state of your current electrical system and figuring out whether upgrades or new wiring are required. To power outlets, light fixtures, switches, and other electrical items in your basement, you might need to install new electrical lines. The safe and effective operation of electrical gadgets and appliances in your basement, as well as compliance with local construction codes, depend on proper electrical wiring.
Lighting installation is one of the important basement renovation services. In order to create a well-lit and welcoming environment, appropriate lighting is essential because basements are often darker rooms with little natural light. To provide appropriate illumination for various areas of your basement, you might need to plan and install a variety of lighting fixtures, such as wall sconces, track lights, pendant lights, or recessed lights. Dimmer switches and smart lighting solutions can also be used in your basement lighting design to increase flexibility and convenience.
Last but not least, adding electrical outlets and circuits may be part of the electrical services for basement restoration. You could need more outlets to power gadgets, appliances, or other devices, depending on how you plan to utilize your basement. To provide simple access and prevent overloading circuits, it's vital for electricians to properly arrange the number and location of outlets. To supply enough power and avoid electrical risks, it may also be required to install specialized circuits for particular appliances or equipment, such as a home cinema system or a home gym.
8. Basement Piping Services
The maintenance of your basement's plumbing system entails a wide range of services, which are included in basement plumbing services. These services could involve plumbing improvements, installations, and repairs to make sure your basement plumbing is operating correctly. Fixing leaks, setting up or fixing pipes, drains, and fixtures, as well as modernizing plumbing systems for greater effectiveness and performance, are some of the usual basement plumbing services.
Preventing water damage is one of the key benefits of basement plumbing services. Water damage to your basement's walls, flooring, and possessions can result from leaking pipes or malfunctioning plumbing fixtures, costing you money in repairs and perhaps fostering the spread of mold. Skilled plumbers can find leaks quickly and correct them, protecting your basement's integrity and preventing additional damage.
The chance to modify your plumbing system for better performance and efficiency is another benefit of basement plumbing services. Older basement plumbing systems could be less effective, leading to greater water bills and less usefulness. You may improve the overall efficiency of your basement plumbing system and reduce your water and energy bills by upgrading to newer, more water-efficient fixtures and appliances like low-flow toilets, faucets, and water heaters.
The cost of basement plumbing services depends on the precise services required and the difficulty of the repairs or installations. Simple fixes, such as repairing a broken faucet or patching up a leaky pipe, may not be too expensive. But, complex fixes, including changing out corroded pipes, rerouting water lines, or purchasing new fixtures or appliances, could be more expensive.
Many house owners are afraid of basements. And it's clear why. There are cobwebs and drafts, and more. Nonetheless, basements generally receive a bad rap. You can turn your spooky basement into an underground haven with the appropriate design sense and a few simple tips. Are you looking for basement renovation services to create a perfect space? Although it could seem daunting, the secret is to arrive prepared with a plan of action.