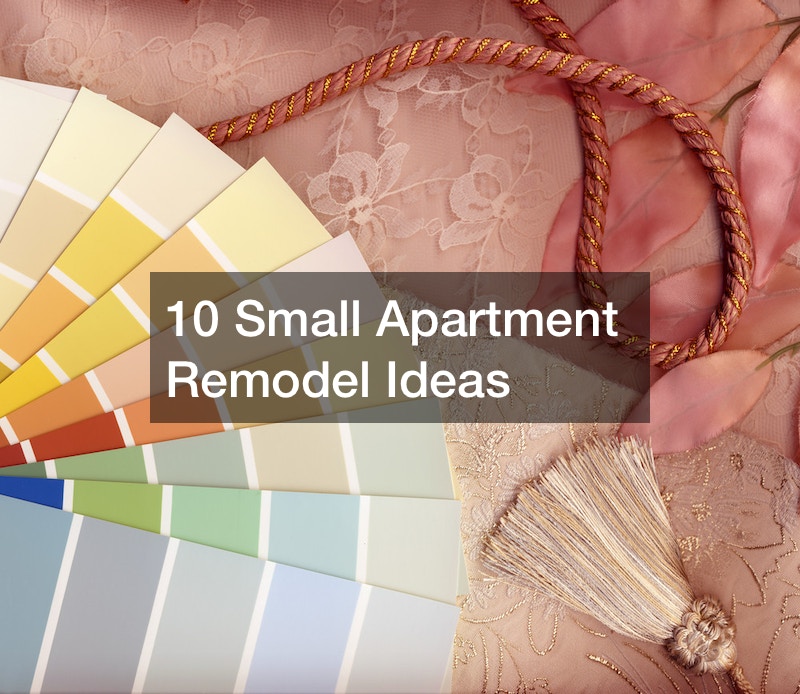 10 Small Apartment Remodel Ideas
Just because you're renting an apartment doesn't mean you can't personalize it. Some landlords allow their tenants to make renovations as long as they let them know their ideas. Renovating your living space can give you a fresh perspective and make your rental feel like a home. It can even be a good idea if you're a property investor who wants to make the unit more enticing for prospective tenants. The following are some small apartment remodel ideas that might interest you:
1. Modernize Your Kitchen
Sometimes apartments don't have the most updated rooms. Therefore, you might feel like your kitchen needs an upgrade. You can do a variety of things to make your apartment more appealing. One of them is to talk to a cabinet installation company about upgrading your cabinets.
Changing the cabinets can be the start of an exciting project to breathe life into your space. You'll have an array of options. For example, you might want to go with traditional wood cabinets for an elegant look. Marble is another option. Many people prefer marble because of its shine and luster. So you might want to look at a few pictures in which the prospective provider installed them.
You can also consider having someone install new tiles in the kitchen. A simple tile switch can add a lot of personality to the area and give you a new feeling when it's time to dine at home. Of course, you can add some new appliances, too. There's nothing wrong with buying a shiny new chrome-like toaster or oven. A space-saving fridge might be interesting because of its design, too.
Lastly, don't forget about the lighting. You could add some color to your kitchen by purchasing colored lights and putting them up. The best part is that you won't have to do too much to undo the process. All you'll need to do is remove the bulbs to restore the apartment to how it was when you moved in.
2. Improve Your Garage
If your apartment has a garage, you might want to take some steps to improve that as well. You don't have to go overboard and make any changes that could affect you when you move out. Instead, you can do things that are easily reversible. Adding some shelving and hooks for your bikes, books, and other items is one idea. Setting up an entertainment center or office area there is another.
It won't take much to set up an office in your garage. All you'll need to do is add the necessary furniture, like a computer desk and chair, for comfort. You might also put a few pictures on the wall and create a special place to go when you feel like getting away.
If the property belongs to you, you can consider putting a garage coating on the floor. The coating will protect the floor and bring out its natural luster. So it will be worth considering the small investment.
3. Personalize Your Entrance
Another one of the best small apartment remodel ideas is to focus on your entrance. The way you lay out your entrance says a lot about how you feel about your home and anyone who comes to it to visit you. Thus, you'll want to make your entrance as cozy and personal as possible.
For example, you can do something as simple as adding a welcome mat outside your door. Manufacturers offer a wealth of welcome mat styles so apartment dwellers can make their visitors feel comfortable. You can add a small chair and table, along with some potted flowers, to contribute to the new friendly vibe. Putting a new doorbell in is also a good renovation. A doorbell makes it easy for your visitors to alert you of their presence. They are interesting little trinkets that come in various styles.
You can also make some changes to the exterior doors. Some people like to put 'welcome' signage on their doors for visitors. You can add one of those or install a knocker instead of a new bell. Alternatively, if your lease allows, you might want to paint the door. That's a great way to set your unit apart from everyone else's.
4. Zenify the Bathroom
Zen is a place of complete happiness and peace. Your bathroom should be one of your central zen places. Thus, you may need to make a few changes in the bathroom to reflect that. Adding a little bookshelf for your magazines is one way to make your bathroom more personalized. You can grab a book off the shelf whenever you need to spend some quiet time on the seat.
Another thing you can do is add some pictures or portraits. Start with the wall behind the toilet and adorn that with a fine piece of art first. You can buy a plaque with a famous quote, an abstract art piece, or a regular picture that shows something you love or value. For instance, you can put a picture of a butterfly in that spot if you're into butterflies. Adding a table is another way to spice up your bathroom. You could use the table for important items like aromatherapy candles or intricate air fresheners. It's all about making yourself feel good in your special place. These ideas can help you accomplish that.
If you're not sure what you want to do with your bathroom, you can employ the help of a bath remodeling service. Professionals in this field will visit your apartment and suggest what you can do to create an amazing environment. They can offer you small apartment remodel ideas that you may have never considered before.
Talking to your friends and acquaintances is an option as well. You can ask them what they would do if they wanted to remodel their apartment. Listen to their suggestions and decide accordingly. You won't have to do anything you don't want to do. However, someone might come up with a creative idea that makes a lot of sense.
5. Repaint the Space
Another one of the best small apartment remodel ideas is to paint your apartment. You can have a blast coming up with ideas for new colors, tones, and settings. You can make each room match or pick a different color for each one.
Using color psychology is the best way to decide how you want to paint your apartment. Consider what each of your rooms represents, and then choose colors to manifest it. For example, your bedroom might be your sanctuary. It might be a place you go to find peace and clear your mind. In that case, a white color might be the most fitting. White represents purity, wholeness, and innocence. Thus, it would be the perfect color for meditation and relaxation.
Now, let's say you use one of your rooms as an office where you go to make money online. Green would be perfect for that. It might be the shade you need to motivate yourself to keep earning cash. Maybe you're an artist who paints, writes, or creates music. In that case, it might be best to paint one of your rooms red. Red is the color of passion, so redoing one of your rooms in red might be the way to go. You can most likely find some willing contractors who will want to help you get the colors you desire.
Alternatively, you can paint little things to create a new look. A cabinet painter can help you to give your kitchen cabinets a makeover, for example. You could also paint some of the other furniture in your apartment, like your tables and chairs. Wallpaper is another idea for colorful changes. Some manufacturers create wallpaper that's easy to remove. That type of material will allow you to restore the apartment to how it was when you get ready to leave.
6. Revamp Outdoor Spaces
You can also make some changes to your outdoor areas. Don't forget all the amazing things you can do with your backyard. For example, you might have enough room to install a pool. A pool can help you make many friends and put exercise and relaxation right at your back door.
Talk to a pool company about what it will cost to install one. You don't necessarily have to get an inground pool if you live in an apartment. You could ask about having one above the ground. You can also set up a deck with a pool deck coating to protect the materials. That's just one idea.
If you love sports, you can set up a sports-themed area in your backyard. For example, you could put a punching back up on a tree for when you want to get into shape. You could also do the same with a dart set, ping-pong table, or basketball court. All these things can set your apartment up as a place people visit to have fun.
If you have children, you can design your backyard to be a play haven for them. Shop online to find an affordable playground setup or gym. Put it there so your kids don't have to go to the park to have fun. They can walk outside the door and access the same things they'd get if they went elsewhere.
If you want to get creative, you can set up a racetrack for them and then buy them some motorized cars they can ride around in. That will be loads of fun for them, and it will give you a feeling of satisfaction because you're contributing to their happiness. Your outdoor space can be a place for zen if you want it to be. You can set up a waterfall scene, a gorgeous garden, or a place under a tree to meditate or pray. There are so many ways you can take advantage of the outdoor space.
7. Upgrade the HVAC
Your HVAC system is something you can work on if you want to improve your living space. That's why AC service is one of the leading small apartment remodel ideas. Contact a professional AC company about changes they can make to help you live more comfortably in your home. For example, you can have someone change the filter in your HVAC unit to a HEPA-type filter. This material will combat allergic reactions and can be great if someone in your home suffers from them.
You can also upgrade to an energy-efficient system to save money on electricity. Manufacturers design these units to consume less energy than typical devices. They're excellent replacements for aged units and systems that work harder than they should. Speak to a professional about the options you have for AC units and the types of installations they can do for you. You'll be glad you took the opportunity to consult with someone.
8. Add the Details
Another one of the best small apartment remodeling ideas is to focus on the fine details. Foam crown molding might be something you want to consider getting in your apartment. A professional can perform this service for a reasonable rate, and it will help you avoid leaks and rodent intrusions in the cracks and crevices of the apartment.
9. Replace Old Piping
Covering the piping is another one of the good small apartment remodel ideas. Have some plumbers come in and inspect the piping in your unit. They might very well find aged pipes, small leaks, and other issues they can tend to if they want to help you revamp.
You can easily schedule an appointment or consultation so a plumber can get a good look and make some observations. They can repipe your apartment and make your space comfortable and livable. You can also keep that plumber on your speed dial in case you have any problems in the future.
10. Prepare for the Future
Another one of the valuable small apartment remodel ideas is to plan for the future. You can plan for the future by gathering the phone numbers for companies you might need later. For example, you can get the number to a water restoration service. This provider can help you if your apartment ever suffers from a bad storm. You can also gather the numbers of electricians, cable installers, handy people, and contractors. The more time you spend getting phone numbers now, the easier it will be to get help.
Now, you have several small apartment remodel ideas for your creative adventure. You can try one or several of these suggestions and see how they work. You might be surprised how well things go for you.