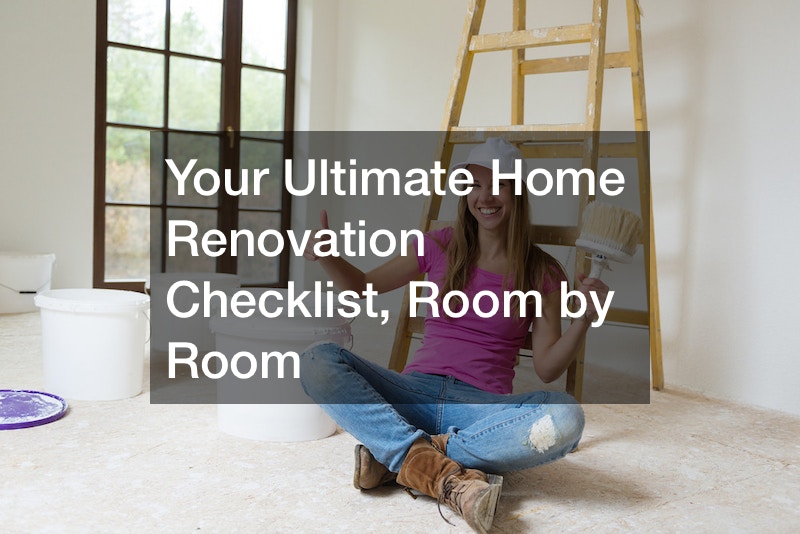 Your Ultimate Home Renovation Checklist, Room by Room
Are you ready to embark on the ultimate adventure of transforming your humble abode? In this article, we offer you the holy grail of home renovation knowledge for you— the ultimate home renovation checklist room by room!
Whether you're looking to spruce up your living room, revamp your kitchen, or create the perfect oasis in your bedroom, we've got you covered. We'll break it down room by room, giving you the lowdown on what to consider, plan, and conquer in each space.
Grab your tool belt, unleash your inner interior designer, and join us on this epic home renovation adventure. Get ready to transform your humble abode into a haven of style, comfort, and personalized awesomeness. It's time to check off those renovation goals, one room at a time. Let's dive in and make your home renovation dreams a reality!
Preparing for Renovation
It's important to make a list of your home items before you dive into that fancy remodeling or gut renovation project. Keeping track of all your precious belongings can be a real challenge. So, take this opportunity to create a master list of everything you own and its value. It's like creating your personal inventory superhero. This way, you'll have a clear picture of what you've got and what it's worth. This will also be useful for your home insurance plan.
Now, before you kickstart that renovation bonanza, it's time to tidy up and declutter. Sort your stuff into four piles: donate, sell, hand-me-down, and save. Anything that won't see the light of day after the renovation? Say goodbye to it before you even start the demo. As for the things you're keeping, you'll need to find a cozy spot to store them while the construction chaos unfolds. Think spare guest rooms, or basements, or get smart and rent a portable storage container. Keep those belongings safe, organized, and out of your way.
Make that list, declutter like a boss, find a safe spot for your stuff, and only keep the essentials unpacked. With a little planning and smart decision-making, you'll sail through your home renovation checklist room by room like a pro.
Emergency Proofing Your Garage
We can't discuss or have a home renovation checklist room by room without getting into the importance of making sure your garage is prepared for emergencies. First, you need to have a fully working home generator and fuel to keep it running for a good while. Next, make sure the garage itself is prepped. This depends on what you may need in an emergency, and this could include warm blankets, canned food, water, an emergency kit, and so on.
Oh, and don't forget about your garage door opener. If you're still rocking an outdated garage door opener, your garage might be more vulnerable to break-ins than you'd like. Yeah, I know, it's a bummer. But the truth is, those old-school openers can be an open invitation for burglars to waltz right into your sacred garage space. You've probably heard the stories— of those crafty burglars armed with fancy scanners that can easily crack the code of your ancient opener. It's like a game for them, figuring out the secret access to your garage with a wave of their magic scanner wand. And we don't want those sneaky intruders gaining easy access to your valuable stuff, do we?
That's where a modern automatic door opener comes to the rescue. These bad boys are designed with top-notch security features that make life tough for those pesky burglars. They use advanced encryption technology, rolling codes, and other fancy-schmancy techniques to keep your garage locked down tight.
Maintaining Your Living Room Temp
Let's talk about how to keep your home cool and comfy, even when the scorching weather outside is doing its best to turn your living room into a sauna. I know, there are tons of tips and tricks floating around the internet, and it can get overwhelming. But fear not, 'cause I've got a gem of advice for you— investing in HVAC repair and maintenance is the way to go!
You see, apart from the heat outside, there are plenty of factors inside your home that can mess with your cooling. It's like a battle to keep that refreshing air from escaping too soon. But with proper HVAC repair and maintenance, you can keep your living room temperature in check and bid farewell to those sweaty, uncomfortable days.
Also, consider duct booster fans— they're like superheroes for your airflow. These nifty devices can be a game-changer, especially in those distant parts of your home that always seem to get less love from the cool air. Install a duct booster fan, and voila! You'll increase the flow of conditioned air to those neglected areas, making your home a more even-temperature paradise. The beauty of these fans is that they come with programmable controls, making it a breeze to turn them on and off whenever you need that extra boost of coolness. Whether you want to fit them into your central ductwork or smaller ducts that cater to specific rooms, it's totally up to you and your unique requirements.
Opening Up Your Dining Room
The next space we're discussing in this article about home renovation checklist room by room is the dining area. If you want to do something major, you may be better off teaming up with home renovation contractors so you do it the right way.
Need some inspiration? Forget the traditional boundaries— here are some cool ideas to mark out your dining area and make it stand out from the rest of the room. One option is to get creative with the floor. Imagine an eye-catching hexagonal pattern beneath your dining table that instantly defines the space and adds a touch of uniqueness. You can achieve this effect by using different flooring materials or even floor paint to create simple lines or more elaborate designs. Let your imagination run wild!
Another easy way to zone your dining area is by adding a rug. Choose a rug that fits nicely under your dining table, and voila! You've created a cozy, defined space that feels wonderfully soft underfoot. Opt for a lightweight rug that can be easily picked up and shaken out to combat any food debris mishaps. Practical and stylish!
Sprucing Up Your Bedroom
Your bedroom should be your sanctuary, the place where you can be yourself and completely forget about the rest of the world. A nice way to change how your bedroom looks and feels is a fresh coat of paint. Work with home painting services so you can choose the best kind of paint and colors that will truly enhance your bedroom.
You can also add warmth and texture to your bedroom. It's an easy way to improve your room's style. A few simple additions can take your snooze haven from average to extraordinary. Whether you're a fan of flowery patterns or prefer the subtle charm of jute, a stylish rug is a secret ingredient that brings your bedroom together in a snap.
Don't stop at the rug— show off your personal style with a stunning piece of artwork. Whether it's a mesmerizing sculpture, a captivating photograph, or a vibrant painting, let it be the star of the show. And here's a little secret: You don't always have to hang it on the wall. Leaning your favorite artwork against the wall adds a touch of effortless elegance that speaks volumes. It's all about creating that luxurious vibe.
Waterproofing Your Basement
Waterproofing your basement is a great way to make sure this space serves you well. But before you grab those tools, let's understand why your basement is getting all wet and wild in the first place. You see, most basements hang out below ground level, which makes them prime candidates for moisture overload and water damage.
First up, consider cracks in your house's foundation. These sneaky little crevices are like open invitations for water to seep right through your basement walls and floors. Not a great situation, trust me. Then we've got those not-so-secure basement doors, windows, egress windows, and window wells. If they're not up to snuff, they can become leaky paths for water to sneak its way into your basement.
Inadequate drainage is a major culprit behind a wet basement. Picture this: When rainwater doesn't have a proper escape route away from your humble abode, it decides to stick around near your home's foundation. And guess what? It eventually finds its way into your basement. Sneaky, huh? That's why you should team up with basement waterproofing companies to ensure you waterproof your basement the right way.
Replacing and Updating Your Shower
Next on our home renovation checklist room by room, we look at bathroom remodeling. You can also consider an update instead of a remodeling project, and replace your shower so you have one that is more efficient, using less water.
Quick and affordable bathroom updates can have your space looking fab in no time. It's all about enhancing what you already have, without getting into the nitty-gritty of a full-on remodel. So, what's included in a bathroom update, you ask? Well, we're talking about fun projects like slapping on a fresh coat of paint, swapping out those outdated fixtures and hardware for something shiny and new, and hanging a snazzy shower curtain that adds a pop of personality to your bathroom. These updates are perfect for homeowners who want to keep the existing layout and functionality of their bathroom but give it a stylish facelift.
Bathroom remodels might require a bigger budget and a longer timeline. We're talking about taking things to the next level with projects that could take several days or even weeks to complete. In some cases, you might need the help of professionals to ensure everything is done safely and up to code. After all, you want your bathroom remodel to be top-notch and meet all those local building regulations.
Remodeling Your Cabinets
You may also consider making changes and updating your kitchen cabinets. For this purpose, you don't need to completely remodel your entire kitchen. You will, however, have to team up with kitchen equipment cleaning services to help you ensure you clean up well after updating your kitchen cabinets. If you're looking to refresh your kitchen cabinets without a major overhaul, you can paint them, give them a gloss finish, distress the finish for a unique look, or reface them.
Insulating Your Attic
If you're ready to tackle the task of insulating your attic, you've got a couple of options up your sleeve. You can go the classic route and lay down fiberglass batts or rolls, or you can get adventurous and blow in some cellulose insulation. Fiberglass batts and rolls are a popular choice among do-it-yourselfers. They're relatively easy to handle and install, making them a go-to option for many.
On the other hand, there is cellulose insulation, which involves blowing in loose fibers to create a thick layer of cozy goodness. This method is great for irregular spaces and hard-to-reach nooks and crannies. It offers excellent coverage and can provide better insulation in certain areas. While you're at it, install solar roofs so you can make the most of that kind of energy.
Selling After Renovating
Once you're done marking off items off your home renovation checklist room by room, you can start thinking about selling. It's a good idea to use Google for advice on how to do this. Simply search 'sell my home' and learn as much as you can from the search results. Good luck!
Congratulations, home renovation warriors! You've made it to the end of our ultimate home renovation checklist, room by room. We hope this guide has armed you with the knowledge, inspiration, and confidence to tackle your home makeover with gusto.
Remember, home renovation is a labor of love, and it's all about creating spaces that reflect your unique style and cater to your needs. By following this checklist, you've laid a solid foundation for success. From envisioning the perfect design to planning and executing each room's transformation, you're well on your way to achieving the home of your dreams.
As you embark on your renovation journey, keep in mind that flexibility is key. Unexpected challenges may arise, and adjustments might need to be made along the way. Embrace the process, stay adaptable, and don't be afraid to seek professional help when needed. Sometimes, a little expert assistance can save you time, money, and headaches.